Guard Tour System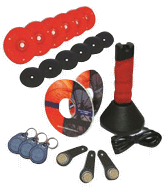 Security Tour System, which is produced to provide 100% Security Control wherever security is needed, is an integral part of all security automation projects. The guard tour system has been created using the most advanced technologies of our time. The guard tour system, which was developed in computer structure as a requirement of the 2000s, works in the Windows environment. In addition, by increasing the reporting capacity, a wider and more detailed reporting of the control process can be made.
Factories, Workplaces, Indoor and outdoor warehouses, Shopping centers, Military facilities and bases, business centers, Parking lots
The area that requires physical security needs a security guard.
Alright; Does your Security Officer really visit the points you have determined on a regular basis?If you are unsure, you are at risk.
What is Guard Tour System?
Control Security Officers who are responsible for ensuring the security of any venue.It is a system used to Made with a mechanically wound Watchman's Watch, thiselectronic and computer-based Watchman Controllers take their place in today's technology.It's left in their system. Entrust your property and possessions thanks to the Guard Control System.Determine whether the security officers you have fulfilled their responsibilities or not.It has become even easier for you to do.
Using the Guard Control System
The Sentinel Guard Control System is very easy to install and use. ComputerWith the software, firstly, the security points and the identities of the security officers are defined.Then, while the security guard goes on tour with his own identity, PROX to the main unit (Sentinel)reads by showing READING and starts the tour; security hung in various parts of the companyCompletes the tour by reading the points with Tom. This continues throughout the tour.The movements are then stored in the PC environment with computer software at any time.can be reported. Thanks to these records stored in the PC environment, which security officersIn the date and time, it can be reported which security points they have visited or not.Reportscan be sent by mail.