Award-winning protection and privacy for your digital life
Trend Micro™ Titanium™ Internet Security offers the best of both worlds; Best-in-class* real-time protection against persistent online threats and cybercriminals without compromising your online experience or device performance. Our non-invasive approach to Internet Security is to stop threats in the cloud before they reach you.
Working silently in the background, Titanium Internet Security provides you, your family, and peace of mind knowing that your personal data is safe and private.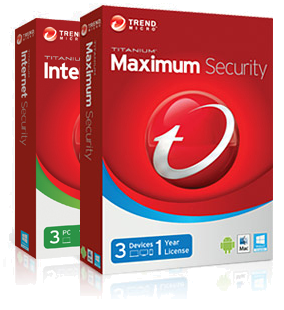 Titanium Internet Security is designed to protect your privacy on social networks including Facebook, Google+ and Twitter so you can relax and enjoy communicating with your friends and family.
Worry-Free Business Security is the best choice for your business
Trend Micro Worry-Free™ Business Security solutions provide fast, effective, and easy-to-manage protection against viruses, giving you the ability to use your computers without fear of downtime or data loss.
Loading
PC to server: Trend Micro's Worry-Free Security Business Standard protects your Windows devices. You can quickly and easily install security software on your computer. There is no need for personnel working in the IT field.
Protects your business data security software; It blocks viruses, spyware, hackers, and other Internet-borne threats before they harm your business.
Global Local Patrol Network
Trend Micro Smart Protection Network supports Worry-Free Business Security solutions. Like a watchful neighbor, it hacks into your company's computers and keeps an eye on your data. The global early warning system collects and analyzes millions of threat data every day and sends its findings to all Trend Micro products. They access relevant information in the cloud, verify valid threats, and block them from accessing your computer.
Remove Rogue AV Malware
Rogue AV malware as integrated removal tool blocks downloads disguised as antivirus.
Device Control
Device control is used to monitor access to USB devices and other connected devices. This function effectively blocks threats and prevents data loss.
URL Filtering
You decide which websites your employees can access where they work. Advanced URL filtering blocks access to unsuitable websites and domains infected by malware.
Supports Internet protocol IPv6
This security solution supports the Internet protocol IPv6.
Reliable Computing Performance
The antivirus program runs silently in the background. This program has little effect on your computer's performance.