NOKTADAN NOKTAYA KABLOSUZ GENİŞBAND ERİŞİMİ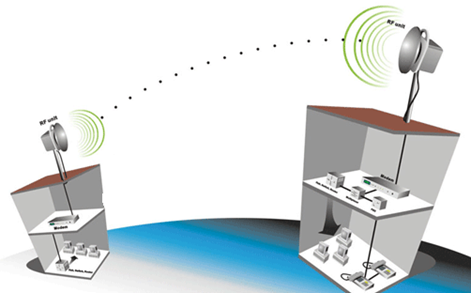 Point-to-Point wireless;
Without the need for any terrestrial connection, broadband up to 48 Mbps: data, Internet, voice and video transmission opportunity... excellent performance in all weather conditions
Application Areas: Shopping Centers, Municipalities and their affiliates, Marinas, Stadiums, Ships, Ports and All kinds of Communication Systems, Rural areas with difficulty in transportation, Points without terrestrial connection - On and off campus, VoIP operators, Internet Service Providers, Quarries, Mines, Universities, etc.
POINT TO MULTIPOINT - POINT TO POINT - ACCESS POINT - MESH NETWORK

ACCESS POINT - MESH NETWORK ;
Licensed and multifunctional outdoor 802.11 Wi-Fi equipment that is powerful, easy to install, portable, works in all physical conditions, supports broadband wireless access...
Point-to-Point, Point-to-Multi-Point, Wi-Fi (Access Point) and Mesh Networking Solution;
It has products used to offer Internet voice, video and data communication quickly and easily to those who want to access information; it enables customers to make more informed decisions, improves utility and safety, and increases operational efficiency.
It can be installed in many outdoor wireless applications with its affordable cost: The ideal solution for companies, police, firefighters, ambulance services, municipalities, all public institutions, Internet Service Providers and Internet cafes that want to increase their wireless network coverage.

Where is it used?
Communicate between campus networks such as schools, corporate companies and sports complexes by connecting a LAN to each building.
Communicate between monitoring centers and vehicles such as trucks, buses, trains, ambulances and police cars.
Creating outdoor wireless entertainment venues in hotels, restaurants, golf courses and coffee shops.
Creating municipal surveillance applications that can cover many apartments in the city.
Creating temporary WLANs for concerts or sporting events, tactical military formations, construction sites or removable structures
Inventory control in production and warehouse operations against harsh environmental conditions.
Temporary use in disaster recovery situations where wired infrastructure is damaged or destroyed.