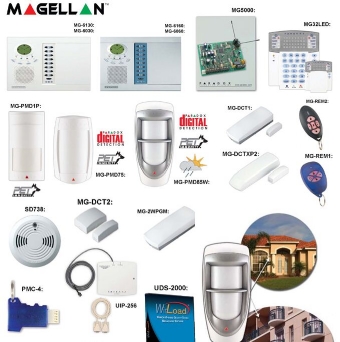 Security Alarm Systems can be installed both wired and wirelessly. It provides complete security in both systems. As long as the product you choose is a certified product in accordance with international standards, its project and application are done correctly. However, if the place where the alarm system will be installed is suitable for cable pulling, it will be more economical to choose a wired burglar alarm system.
Our company prepares alternative offers for the customer, from the most economical system to the systems for full protection, after making a security analysis by making a discovery or working on the project, if there is a project, before installing the system somewhere.
These systems include Infrared detectors that detect or not detect the animal, which is sensitive to movement and the temperature of the living creature, magnetic contacts used against door and window snatching, ray barriers that have the number of rays according to the height of the window and door in line and are activated by the interruption of these rays, and are used against glass breakage. It consists of glass break detectors, fire detectors used against heat and smoke, gas detectors sensitive to gas leakage and similar detectors, internal and external sirens activated by the detection of detectors, and telephone call modules that read the previously entered message and send warnings to phone numbers.
Our company works with Paradox Brand, the world leader in wired and wireless burglar alarm systems. The control panel and detector types to be used according to the number of detectors, the number of zones and the security level are determined according to the place where the system will be installed and recommended. The new generation control panels of the Paradox family are IP-based products and can be controlled remotely, via network (LAN, WAN) or telephone, and these panels can be used for home automation if desired.