Fiber Optic Termination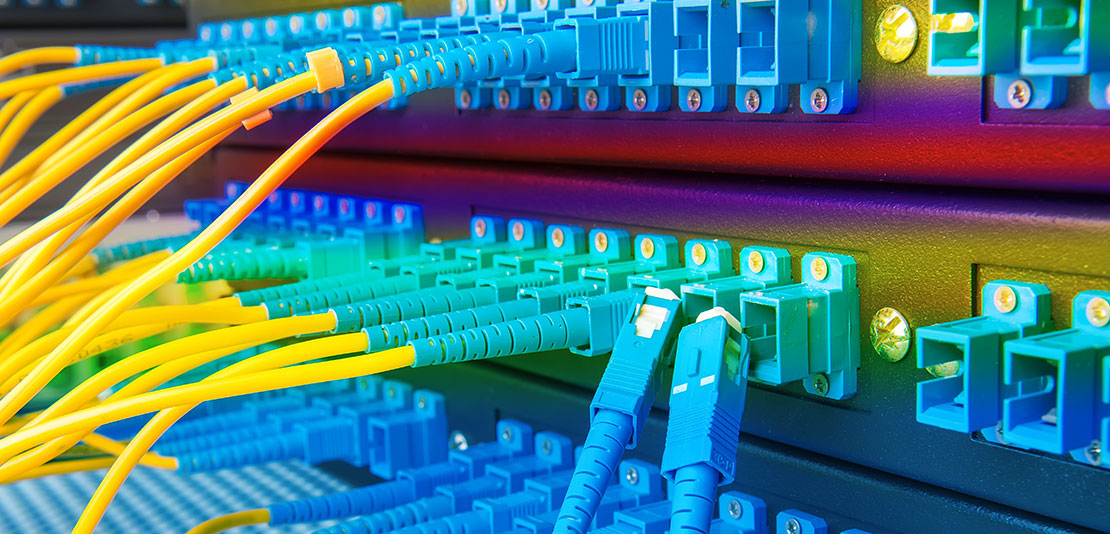 Fiber Optic Cabling is becoming more common day by day to meet the infrastructure needs that will support a wide range of communication protocols. Especially for the applications where speed and bandwidth are important and many different communication systems/protocols that need to eliminate problems such as distance and electromagnetic interaction. With the Fiber Optic Infrastructure Systems, a communication environment without problems can be created.
In this context, Fiber Optic Technology is used in CCTV and IP Camera systems, IPTV systems and Network infrastructures.
We have Network connection and communication services over fiber optic, devices for network (LAN) and FTTX uses, fiber optic connector, Patchcord, adapter, (IF) Converter, Fiber optic power-meter, laser source, sled source, Multimode and SingleMode Otdr Test, Fiber Optic splice equipment.
Fiber Optic Cabling Systems
All projects in our head office in İzmir, exploration and applications of horizontal crossings, underground excavations, exploration and implementation of road crossings and obtaining legal permissions for all these works are provided within the scope of fiber optic infrastructure services.
Advantages of Fiber Cabling
Fiber optic cable can carry more information than other cables.
The speed and bandwidth sizes are better.Since the signal loss is lower, it can transmit data at higher speeds and much longer distances. This distance can be up to 2 Km without using a repeater.
It is not affected by electromagnetic fields, interference does not occur. Because light is transferred from fiber cable, not electricity.
Fiber cables do not emit energy, so they are not likely to cause interference with other communication systems.
Fiber cables are less affected by corrosive liquids and gases. Fiber optic cables are guaranteed for life unless a physical force is applied, they have solid insulation.
For metallic cables, capacitance occurs between conductors and inductance occurs along conductors. These properties cause metallic cables to act like low-pass filters, limiting their bandwidth.
The raw material of fiber optic cables is unlimited. (soil)
Fiber systems are assumed to last longer inside metallic material. Because fiber cables are considered to be more resistant to changes in environmental conditions.
We are at your service for Fiber Optic Termination, Fiber Termination processes and the supply of fiber products primarily in İzmir and all over Turkey.
We provide fiber optic network infrastructure and all design, cabling and termination services to our valued customers with.
Fiber optic termination, fiber termination İzmir.
Fonetsan provides service primarily in İzmir, Aegean and Mediterranean Region and all over Turkey.
Fiber Optik Servces..:
Fiber Optic Termination;
Termination Fiber Optic Cable Splice Assembly;
Fiber Optic Cable (fusion splicer);
Fiber Optic Cable MultiMode OTDR Test;
Fiber Optic Cable SingleMode OTDR Test;
Fiber Optic Consulting Services;
Fiber Termination;
Active(switch) and Passive(cabling) Network Products;
Fiber Optic Cable Termination and OTDR Test Services;
Additionally, we offer turnkey solutions by performing all the steps of your projects from the initial stage to the delivery stage regarding fiber optic infrastructure services. You can benefit from our on-site inspection, project design, cable pulling, fiber optic termination (OTDR test reporting – documentation), fiber optic commissioning services.
Some of our references:
Fiber Optic Patch Cord
Pigtail
Adapter
Fiber Optic Splice Box
Fiber Optic Underground Splice Box
Fiber Optic Cable
Fiber Optic Splice Device
Fiber Optic Measuring Instrument
Fiber Assembly Tool
Fiber Optic Connector
Fiber Optic Patch-Cable
Fiber Optic MPO/MTB
Fiber Optic Splice Box
Fiber Optic Patch Panel
Fiber Optic Distribution Box
Fiber Optic Socket
Fiber Optic Cable indoor/outdoor Multi Mode 50/125 (2,4,8,12,24,36,48,72,96,144,196 Core)
Fiber Optic Cable indoor/outdoor Multi Mode 62.5/125 (2,4,8,12,24,36,48,72,96,144,196 Core)
Fiber Optic Cable indoor/outdoor Single Mode 9/125 (2,4,8,12,24,36,48,72,96,144,196 Core)
Fiber optic wall mounted termination box
Fiber Optic Termination Box
Fiber optic rack cabinet
Fiber optic patch cord and Fiber optic pigtail
fiber optic adapter
fiber optic splice cassette
fiber optic splice box
Fiber Optic Converter and Switch
Our company Fonetsan successfully meets the fiber optic cable termination needs of the following companies:
-Eczacıbaşı Holding
-Limak Holding
-Akfen Holding
-Harran University
-UNCHR- United Nations Refugee Agency
-IOM- United Nations Immigration Commission
-Omya Mining Operations
-Koza Mining Operations
-La Larroine
-Korsini Pure Packaging
-Burkert Fluid Mechanics
- Lansinoh
- Onmus Electric
-TCE AEGEAN
-Klemsan
-Beypak Packaging
-Bitron Electromechanical
-Ipek Paper
-Tınaztepe Galen Hospital
---